Loser Hands?
February 19th, 2015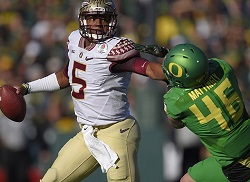 Man, BSPN had a field day this afternoon with the freshly measured hand sizes of quarterback prospects Jameis Winston and Marcus Mariota.
Both are under the "benchmark" 10-inch span, bellowed iconic former general manager Bill Polian. But Winston's hand span was just 9 3/8 inches, whereas Mariota was 9 7/8 inches.
Oh, the panel of Polian, John "The Professor" Clayton and Sal Paolantonio were all worked up over Winston's hand size.
BSPN flashed a fancy graphic on the TV screen about the small percentage of good starting quarterbacks who have succeeded with about that hand size, and they claimed Colin Kapernick (9 1/8 inches) is the only good one drafted since 2006. Never mind that Tony Romo is under nine inches and Aaron Rodgers checks in where Winston does.
Jiminy Christmas! Joe's afraid to know what will be measured next.