Details Of Sapp And Phoenix Hookers
February 19th, 2015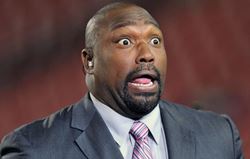 It seems former Bucs great and Pro Football Hall of Famer Warren Sapp washed away a lucrative television career over a low three-figure (each) escapade with two Phoenix, um, escorts.
Sapp was pinched by Phoenix police the morning following the Super Bowl when two women claimed he slapped them around. Sapp told police, no, he only bought hooters and had evidence on his cell phone, reports Joe's good friend Jason McIntyre of TheBigLead.com
Sapp, who lost his job at the NFL Network after the February arrest, brought two hookers – one was 23-years old, the other 34 – to his room after meeting them at the hotel bar. The women agreed to receive $300 each for [oral sex]. He took out his cell phone (?!?) to record the 23-year old giving him oral sex.
There really isn't much more for Joe to add, other than to say than it is a crying shame Sapp may have Pearl Harbored his television days just for a two-bit (relatively) cheap stunt like this.