Jim Harbaugh Embraces Jameis Winston
February 17th, 2015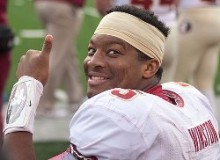 Why would a wise, accomplished man like Michigan head coach Jim Harbaugh attach his name to Jameis Winston?
Jiminy Christmas! Joe's been led to believe this would mean women's groups will march angrily in protest within hours on the Michigan campus.
Today, Michigan authorities let the world know, via Twitter, that Winston and fellow NFL quarterback prospect Bryce Petty are preparing personally with Harbaugh at the Michigan campus for this week's NFL Scouting Combine.
QBs Jameis Winston (FSU) & Bryce Petty (Baylor) are preparing for the NFL Combine at Schembechler Hall. pic.twitter.com/2ICM9XMVrc

— Michigan Football (@umichfootball) February 17, 2015
Yes, it's a great recruiting stunt by Harbaugh, but it's not one a guy with his resumé needed to pull.
Joe sees Michigan's move as a strong nod to what investigations into Winston have revealed: nothing sinister.