Jameis Watch: A Barber Blessing
February 3rd, 2015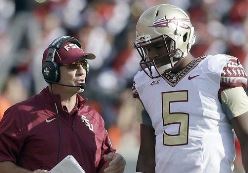 Crab-legs-stealing, BB-gun-shooting, obscenity-hollering, Heisman-Trophy-winning, former national champion Jameis Winston, the pride of Florida State University, continues to look like a much better quarterback prospect than Mike Glennon and Josh McCown.
It's Joe's daily nugget on the Jameis Watch, celebrating the best quarterback to wear No. 5 ever in the state of Florida.
Bucs fans already learned that Bucs icon Ronde Barber, a notorious student of quarterback film, likes what he sees from Jameis Winston.
But today, Ronde's brother Tiki Barber weighed in on the great Winston-Marcus Mariota quarterback debate on CBS Sports Radio.
Tiki is in the Seminole's corner, too.
"Mariota is interesting because he's such a good winner. But the problem is we haven't seen him throw any of those passes yet that are necessary to be successful in the National Football League," Tiki Barber said. "Can he get away without having them? Yeah, probably, and have a manageable career."
On Winson, "I'm taking a winner like that, despite some of the off-field stuff," he said. "You have to believe that gets corrected as he grows and matures."