Jameis Watch: "Not A Franchise-wrecker"
February 14th, 2015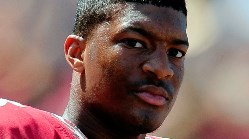 Crab-legs-stealing, BB-gun-shooting, obscenity-hollering, Heisman-Trophy-winning, former national champion Jameis Winston, the pride of Florida State University, continues to look like a much better quarterback prospect than Mike Glennon and Josh McCown.
It's Joe's daily nugget on the Jameis Watch, celebrating the best quarterback to wear No. 5 ever in the state of Florida.
If it didn't make Joe sick, he would laugh so hard his sides would split from the rank hyprocrisy of the Jameis Winston haters.
Oh, no, you never, ever hear them say a friggin' word about Mark Sanchez, who himself was investigated for sexual assualt in college at USC, but cleared. Somehow, the five boroughs of Gotham and the City of Brotherly Love are still standing
Oh, no, you never hear one word of outrage about Zach Mettenberger, who copped a plea of sexual assault in college, yet to the best of Joe's knowledge, Nashville has not been burned to the ground.
Yet Winston coming to the Bucs? To hear some, the area would be better off with an outbreak of the Ebola virus.
Even heavy metal-headbanging Jason La Canfora of CBS Sports believes this Jameis hate is out of control.
Too many people who I know and trust who know him too well — the real him; the behind-the-scenes him; the meeting-room him and the practice field him and the locker-room him — have vouched for him for me to believe Winston is not a franchise-wrecker.

What he is, I've been told, is a driven leader, a gym rat, a football lover who has been steeped in an NFL-style offense. He reads defenses well and he's asked to run Jimbo Fisher's demanding pro style offense where nothing less than excellence is tolerated. And Fisher will be a tremendous advocate for him, and has already told any NFL type who asks exactly what he thinks of this kid and his ability to win games at the next level.
La Canfora goes on to write Winston not only will be the next signal-caller of the Bucs, but like Superman himself, will swoop down from the skies and single-handedly save Lovie Smith's job.