Donald Penn Thwarts Home Invasion
February 15th, 2015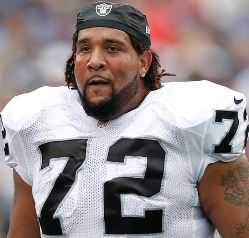 Just because you have money, fame and live in a gated community doesn't mean you are safe.
Just ask Donald Penn.
The former Bucs Pro Bowl left tackle (boy, the Bucs sure could have used a guy like him last year. Oh, wait…) spent a quiet day at his Los Angeles home recently.
Then some dude barreled through the front door and went wilding inside. That was, until Penn took action into his own hands, reports TMZ.com.
According to court docs obtained by TMZ Sports, Penn — who's 6'4″, 340 lbs. and a former Pro Bowler — was at his L.A. home with his wife and kids when a large man hopped over his security gate, busted in his front door and began going crazy inside the home.

That's when Penn — who was with his wife and 2 young children at the time — sprung into action … physically restraining the man (who's 6'1″, 220 lbs.) … until cops showed up.

Sources tell us … Penn is adamant he has no connection to the man — and doesn't know why he was targeted.
Man, that is some scary stuff. One reason (many) athletes live in gated communities is to keep the crazies out. Joe has to wonder what the hell kind of security this place has if some cat can just go all Lolo Jones and get to a person's house.
Penn is a really good guy. Joe is happy that he and his family are safe. It could have very easily been an ugly scene.