Top 30 Buccaneers Mysteries Of 2014 – No. 19
February 14th, 2015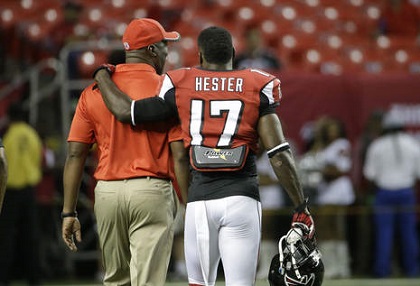 In many ways, Tampa Bay's 2014 season was more bizarre than the MRSA-infected, quarterback-gone-mental, Fire-Schiano-billboards campaign of 2013.
There were plenty of real Bucs mysteries last year, and Joe's revisiting the most interesting of the bunch.
No. 19 — Returner decisions
Joe remembers sitting in the quiet, empty Georgia Dome about 30 minutes after the ass-whoopin' of the year on national television — the day the season died.
Playing on the JumboTron-like screens was a postgame news conference of Devin Hester, who had just roasted Tampa Bay and his ol' pal Lovie Smith with a punt return for a TD, and a rushing touchdown.
Hester was talking about his love for Lovie and how things didn't work out for him going to Tampa Bay that offseason. Hester landed in Atlanta for $3 million a year, and Dirk Koetter, the former Falcons offensive coordinator now with the Bucs, even found a way for Hester to catch 38 passes in limited action.
Why didn't the Bucs invest in Hester? And why couldn't the Bucs ever get a spark from their return game?
It's still baffling to Joe how the Bucs cut undrafted rookie Solomon Patton after he failed early in the 2014 season and then re-signed him to return punts and kicks later.
Bobby Rainey never seemed to get a fair shake early, and nobody else worked out through the year. Ironically, Marcus Thigpen was cut after his failed shot, and then returned a punt to the house for the Bills a few weeks later.
Lovie needs to solve his returner woes. Young teams need to be good on special teams. The Bucs were not, outside of Patrick Murray and decent cover units.
No. 20 — VJax's wrist
No. 21 — Anti-Jell
No. 22 — Seferian-Jenkins boasting about penalized pose
No. 23 — Never moving Michael Johnson
No. 24 — "I didn't want to put more points on the board"
No. 25 — Glennon success without an offensive coordinator
No. 26 — Putrid punting
No. 27 — Defending three-step drops
No. 28 — Eight consecutive red zone runs versus Rams
No. 29 — Leaky Sean Glennon
No. 30 – Jorvorskie Lane