Chris Chester In Free Agency?
February 26th, 2015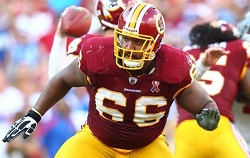 Sorry, Joe won't rest calmly on his memory-foam mattress cover until the Buccaneers make legitimate upgrades to their Bad News Bears offensive line.
The thought of a rookie playing behind that sorry 2014 bunch sends Joe into a fit of heart palpitations.
NFL.com projects starting Redskins right guard Chris Chester could be a salary cap casualty for Washington. Chester just turned 32 and is scheduled to make a little over $4 million this year.
Chester has been an average durable starter for the Skins over the past four years and hasn't missed a game since his 2010 season playing for Baltimore.
He's an interesting story and athlete, playing a few years at tight end for Oklahoma before moving to guard. Then the Ravens drafted him in the second round in 2006, and later tried to convert him back to tight end.
Chester is no superstar, but he's started for some excellent O-lines. And guess what? He also has real experience playing center. What a concept? That's versatility the Bucs could use.
If Chester is cut, Joe suspects Chester would not be expensive ($2 million a year?), and would be a nice warm body to compete with Patrick Omameh and provide depth.
Last year, the Bucs thought Jamon Meredith and Oniel Cousins were the tonic for veteran depth and starting competition at guard. Chester is better than either of those guys.