Jameis Watch: "Biggest Riser"
February 26th, 2015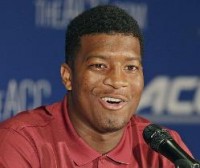 Crab-legs-stealing, BB-gun-shooting, obscenity-hollering, Heisman-Trophy-winning, former national champion Jameis Winston, the pride of Florida State University, continues to look like a much better quarterback prospect than Mike Glennon and Josh McCown.
It's Joe's daily nugget on the Jameis Watch, celebrating the best quarterback ever to wear No. 5 in the state of Florida.
Who was the big winner at the NFL Scouting Combine? Could it possibly have been Jameis Winston, who already was considered a potential No. 1 overall pick?
Yahoo! Sports draft guru Shaun King, the former Bucs quarterback, says it was.
King cited Winston impressing at all levels of evaluation and called Winston's combine "outstanding in every aspect," including in interpersonal relations with team and media.
"For me, he was the biggest riser," King said, "because he put to rest a lot of the negative perceptions that were out there about him as a person."
While it may see trivial to some, a quarterback's handling of media is important. The NFL mandates quarterbacks devote time for twice weekly media grilling sessions during the season, and the general face-of-franchise public duties are inevitable. It simply can't be avoided in the modern NFL.
Comfort in front of media is no reason to draft a QB, but a guy who struggles and crumbles under scrutiny would raise a red flag.
You can enjoy King's deeper look at combine winners and losers in the Yahoo! video below.