"You're Not Worried About Him Going To Mons Venus"
January 8th, 2015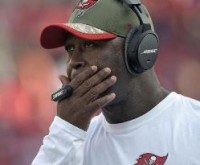 Is it such a bad thing to frequent an establishment that features naked women?
Joe doesn't think so. But in a passionate discussion about Tampa Bay's potential No. 1 overall draft pick, one former Buccaneer talks about a Dale Mabry hot spot, and much more.
Former Bucs quarterback Shaun King, an analyst for Yahoo! Sports and a lifelong Bucs fan, played caller on WDAE-AM 620 this morning and issued a plea to Bucs fans to stop calling Jameis Winston a Josh Freeman or Jamarcus Russell clone, saying Winston is "light years" ahead of those guys when they were coming out of college.
"Jameis Winston as a pro prospect is on the Andrew luck level," King said.
King went on to talk about how the off-the-field concerns about Winston are not football related, and Winston is not mixed up with strip clubs and party types.
"You're not worried about him going to Mons Venus," King said.
You can hear the full King audio below, via the 620wdae.com audio player. Bucs beat writer Rick Stroud is one of the radio co-hosts, and he goes on to say that the football people he's talked to are all in agreement that Winston is a better prospect than Marcus Mariota.