Jameis Watch: "What's To Debate?"
January 8th, 2015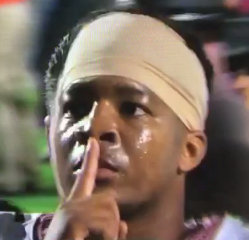 Crab-legs-stealing, BB-gun-shooting, obscenity-hollering, Heisman-Trophy-winning, former national champion James Winston, the pride of Florida State University, continues to look like a much better quarterback prospect than Mike Glennon and Josh McCown.
It's Joe's daily nugget on the Jameis Watch, celebrating the best quarterback to wear No. 5 ever in the state of Florida.
Joe has always said — and always maintained — that if the Bucs draft Oregon's Marcus Mariota, then Joe will be content and will support him and cross his fingers he becomes the multi-year, All-Pro selection the Mariota Gang is convinced he will be.
But spread option quarterbacks just spook the hell out of Joe. Doesn't mean they cannot succeed in the NFL, just that the unemployment line NFL signalcallers is littered with former spread-option types. They have a learning curve to master an NFL offense.
If Joe could find a former NFL scout or GM who believes Mariota's experience tranfers into a stud NFL quarterback, it would help Joe change his mind. But Joe cannot.
Every former NFL front office guy — much less former players — is convinced it is Jameis Winston, not Mariota, that is the better NFL prospect. An example of this is former Chargers All-Pro defensive end Marcellus Wiley, who now works for BSPN.
Haven't met a former player or insider yet who thinks Mariota is a better QB than Winston, so what's to debate? #notthesame #Winston1

— Marcellus Wiley (@marcelluswiley) January 8, 2015
That's just it.
Many Bucs fans have such an erection for Mariota, citing his stats, that they cannot walk in public. But be careful. Guys who pretend to be general managers, with their weekly throw-stuff-against-the-wall mock drafts, are also infatuated by Mariota. Yet the very folks who lived and worked and played in the NFL believe prefer Winston.
For better or worse, Joe will always take the insight of guys who worked in the NFL for a living breaking down prospects, or who actually played the game — not guys who someday hope to be working for an NFL team, no disrespect in any way shape or form to the latter group.
Let Joe put it this way: Who would you take advice from on how to lure Rachel Watson, someone who already bedded her or someone who just wants to bed her (Joe)?