Year 2 For The Tight Ends
January 15th, 2015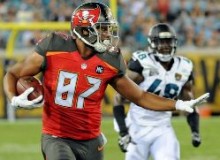 Don't break up the band!
The Bucs have very high hopes for banged up manbeast tight end Austin Seferian-Jenkins, and tight end Brandon Myers already got a restructured 2015 contract with cash up front.
But what about Luke Stocker?
Well, Joe learned this week that the Bucs are very high on Stocker for a variety of reasons, including grades for standout special teams play.
Joe expects the Bucs to make a play to re-sign Stocker, whose contract is on its final days. Stocker shocked Bucs fans this season by staying healthy, and showing some versatility as a fullback.
Joe doesn't expect anyone to jump up and down about a No. 3 tight end, but Stocker is solid in his role. Who could forget the forced fumble that got Lovie Smith's attention? Yes, 2014 was so sad, a Luke Stocker hustle play was a major highlight.
One thing lurking in the back of Joe's brain is a concern former Bucs tight end Dave Moore expressed about Seferian-Jenkins, who finished the season on injured reserve with a back injury.
Moore spoke on WDAE-AM 620 after the season and talked about how it's a red flag for a young, big guy like Seferian Jenkins to already have back problems. Throw in surgery on his foot last year, an ankle sprain on opening day, among other ailments, and Joe, too, is a little spooked.  Hopefully, the injury bug will stay away from ASJ, who should make massive strides in his second season.