Jameis Watch: Barber Likes The Film
January 15th, 2015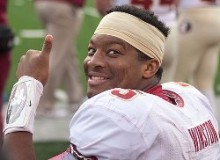 Crab-legs-stealing, BB-gun-shooting, obscenity-hollering, Heisman-Trophy-winning, former national champion Jameis Winston, the pride of Florida State University, continues to look like a much better quarterback prospect than Mike Glennon and Josh McCown.
It's Joe's daily nugget on the Jameis Watch, celebrating the best quarterback to wear No. 5 ever in the state of Florida.
Perhaps a few glasses of Christmas egg nog changed Ronde Barber's spirits. Joe's not sure, but Barber has changed his stance on the Bucs' immediate future.
A few weeks ago, after being part of the Bucs-Packers broadcast team, Barber was so disgusted a couple of days later he wrote off the Bucs as potential contenders in 2015, while speaking on CBS Sports Radio.
But yesterday, Barber told eye-RAH Kaufman of The Tampa Tribune a different tale.
"I don't think anyone figured on the Bucs having that record, and there was a lack of production at key positions that has to be addressed,'' said Barber, who retired in 2013 following a distinguished 16-year career with the Bucs. "It would be short-sighted to say this was a terrible football team … because they weren't.''
Man, if Barber doesn't think the 2-14 Bucs were terrible, then Joe doesn't know what to say.
Regardless, it's good to hear that Barber is bullish. It seems Jameis Winston is on his mind and boosting his spirits. For years, Barber was notorious for his dissection of quarterback game tape. So Joe was very pumped up by Barber's reaction.
"I've watched some of his film,'' Barber said, "and Jameis is a very good anticipatory thrower. He'll throw through some windows to guys he knows are going to be there. He has some intangibles with leadership that scream at you. His movement is good. He doesn't get out of the pocket like (Oregon quarterback) Marcus Mariota, but he's agile and athletic enough to throw off different platforms and you've got to like his arm strength for sure.''
Yes, Winston is boosting spirits across the Tampa Bay area.