Ryan Fitzpatrick > Josh McCown
January 17th, 2015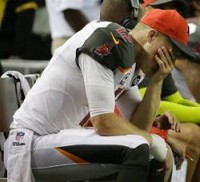 Is there anyone paying attention who thinks Harvard man and veteran Texans quarterback Ryan Fitzpatrick isn't a significantly better player than Josh McCown?
So shouldn't the Bucs consider replacing McCown with Fitzpatrick? Heck, Fitzpatrick won six games as a starter last season and earns a lot less than McCown.
NFL stats guru Mike Sando at BSPN.com is making an argument that Fitzpatrick would be a fantastic acquisition for the Jets.
In fact, Sando rolled out a graphic that places Fitzpatrick in the same league as decent NFL starters, and he said Fitzpatrick "is a guy any team would love to have in its quarterback meeting room."
2010-14 QB Comparison
McCown can only dream about what it would be like to throw 102 TDs in five years.
That graphic sure is especially interesting considering Fitzpatrick is coming off what many consider his best season, however, the Texans seem ready to make Ryan Mallet their quarterback of the future. It's been speculated that Fitzpatrick could be had for a seventh-round pick, if he's not released.
The Bucs will need a fantastic "bridge quarterback" for Jameis Winston or Marcus Mariota. There's fierce disagreement in the ranks of JoeBucsFan.com world headquarters, where some believe McCown is perfect for that role, and others can't imagine any sane organization would settle for McCown after watching him play like a rookie and cry last season.
If McCown doesn't take a pay cut, then he'll be earning $5.25 million next season, $2 million more than Fitzpatrick. It's hard to believe he's worth the extra money.