"Whatever Happens After That Happens"
January 14th, 2015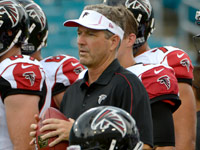 As Joe spelled out last week, new Bucs offensive coordinator Dirk Koetter sure appears to be a guy who would jump at a head coaching job.
He's had plenty of interviews the past couple of years.
So Joe thought it would be prudent to ask Koetter about seizing a head coaching job. Koetter, 55, was rolled out to media yesterday via conference call, and he didn't rule out moving on to bigger opportunities.
"As far as the being a head coach thing, I was fortunate enough that I've been a college head coach for nine years, I was a head high school coach," Koetter said. "I love being an offensive coordinator in the NFL and the part about being a head coach, I mean, just look around at what's happened in the last 48 hours in the NFL. Being a head coach in the NFL is very unpredictable. [I am] extremely, extremely happy being an offensive coordinator in the NFL and, you know, if something like that is to come, that's a byproduct of doing the job that you have right now well. So I'm going to come down to Tampa and just try to do the best job I can, and whatever happens after that happens."
Yes, Koetter just got the Bucs job and hasn't called a play yet. And Joe can't fault the guy one bit for wanting to be and NFL head coach. But given that the Bucs likely plan to draft a rookie quarterback, the future plans of the offensive coordinator are an important issue. Especially if that QB is Marcus Mariota and he sits for a year to adjust to NFL-style offense.
The worst thing for any young QB is to have a revolving door of offensive coaches.