Jameis Watch: Clutch Karma
January 14th, 2015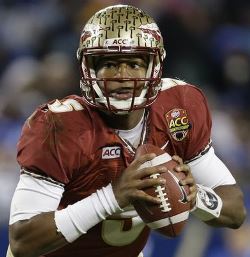 Crab-legs-stealing, BB-gun-shooting, obscenity-hollering, Heisman-Trophy-winning, former national champion Jameis Winston, the pride of Florida State University, continues to look like a much better quarterback prospect than Mike Glennon and Josh McCown.
It's Joe's daily nugget on the Jameis Watch, celebrating the best quarterback to wear No. 5 ever in the state of Florida.
One thing Joe really, really likes about Winston is the dude is just clutch. How many times did he damned near play perfect ball in the second half of games, rescuing Florida State's hindquarters to pull out thrilling wins week after week? Nothing seemed to rattle the guy.
Then, on Monday, when Joe was watching the Ohio State trample Oregon, there was a graphic displayed showing in all BCS championship games, the team that led at halftime won. Well, all but one.
What team was that? Winston-led Florida State last year, highlighted by a last-minute championship-winning drive engineered by, you guessed it, Winston.
Why would that be such a heinous thing for the Bucs to have, a guy who rises to the occasion and doesn't wilt under the pressure? Outside of rising out of his bed to start the day, Joe isn't sure what turnover-prone Josh McCown does that is clutch.
Remember: the lone come-from-behind win this season came not from the hands of McCown, but from Mike Glennon, who rallied the Bucs in the final seconds on the road to beat the playoff-bound Steelers. McCown's only win came against the sorry Redskins.
How great would it be for the Bucs to finally have a quarterback with winning karma and no tail between his legs in the final minutes?