The Cardale Jones Movement
January 14th, 2015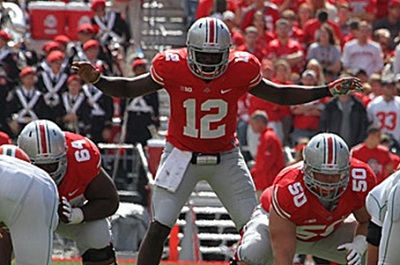 Joe asked some NFL scouts at East-West Shrine Game practice yesterday about their quarterback preference — Marcus Mariota or Jameis Winston.
Not all wanted to go there, a couple preferred to talk about champion Ohio State QB Cardale Jones.
The gigantic third-year sophomore, with three amazing starts under his belt, can declare for the NFL Draft before tomorrow's deadline. These scouts were all intrigued by Jones' success, lack of game film, and his 6-5, 250-pound frame.
They were saying Jones likely has nowhere to go but down in the eyes of the NFL. "The less tape you have, the bigger your potential is," one scout told Joe.
Of course, he was talking about the perception game. Joe surely thought Jones surely should stay in college and, you know, start more than a few college games. But there is a growing movement for Jones to turn pro.
FOX Sports analyst and former NFL QB Brady Quinn made the same case for Jones on FOX Sports Radio last night, saying Jones definitely should declare for the draft.
"He's got a ton of upside," Quinn said. "They only got three games of film on you. Right now, you're looking pretty good, buddy. Let me justify why. When you come back and start playing again going into a draft-eligible year. All these scouts, all they do is, they don't look at what you can do, they look at what you can't do. They try to find the negatives. They try to look at all sorts of things to try to downgrade [you]."
BSPN got into the act late yesterday, with draft guru Todd McShay going deep into Jones and reaching out to scouts to peg Jones as a fourth- or fifth-round pick.
What is Jones' draft stock right now?

Heading into Monday night's title game, I would have said that Jones was somewhere in the seventh-round or undrafted free-agent range, but after seeing the way he performed in the championship game win, including the fact he was able to go through his progressions and display outstanding poise, I think he's more in the fourth- or fifth-round range. I texted three NFL scouts Tuesday morning, and all three pegged Jones as a Day 3 prospect. However, they admitted they would have much more work to do studying him if he declares.

Any NFL team that drafted him would be gambling on his raw tools, and they would need to have a quarterback coach on staff who is: A) willing to invest the necessary time to develop him; and B) capable of translating Jones' physical abilities to the NFL level.

Bottom line: This is a highly unusual situation. It'd be extremely rare for a quarterback to be drafted after just three games, even one with Jones' raw abilities. But rarely, if ever, do we see a QB have a three-game debut like the one Jones just put together.
Might the Bucs consider drafting Jones in, say, the fifth-round as a developmental project?
It may sound wacky, but so was signing Josh McCown last season and naming Mike Glennon "quarterback of the future."
Joe wouldn't be surprised by anything Lovie Smith does at the quarterback position.