Todd Herremans Could Be Licht's "Cap Casualty"
January 10th, 2015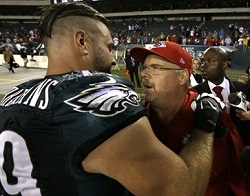 Last week, Tampa Bay general manager Jason Licht hopped on the Buccaneers Radio Network and talked about how his staff already has a list of potential "cap casualties" on which the Bucs are ready to pounce.
Of course, Licht was referring to Dashon Goldson good players who could be cut in the coming weeks because their teams won't pay their fat contracts for the 2015 season.
Tampa Bay has identified players "that we think we could maybe swoop in on and get a bargain, per se, or mix good value sense-wise for us to sign and upgrade our team," Licht said. "We've got some holes on our roster that we can upgrade. We are going to be active in all those different areas, but we are going to be wiser about it."
So who might the Bucs target?
Of course, Joe's dialed into fixing the Bucs' dreadful offensive line.
One guy to watch is veteran Eagles guard/tackle Todd Herremans, a fourth-round pick of Philadelphia in 2005. He's been a warrior on their offensive line for years. Eagles beat writer Eliot Shorr-Parks pegged Herremans as a cap casualty, meaning he'll be cut before March 10, the start of the NFL fiscal year.
OG Todd Herremans
Cap hit: $5.2m
Base salary: $4m
Dead money if cut: $1.2
Analysis: Herremans played longer than he should have with a torn bicep muscle last season, a pretty valiant decision considering his status heading into the offseason. The Eagles can save $2.8 million by cutting Herremans, not a huge number, but backup Andrew Gardner played well last season, and costs only $750,000. It wouldn't be surprising to see Herremans released. 
Prediction: Cut
Licht spent years with the Eagles and all of them were when Herremans was in the mix.
Herremans played a couple of games with a torn left bicep in 2014, until he gave in to surgery. ESPN documented his gutsy effort.
"I thought he was effective," Eagles coach Chip Kelly said. "There were certain things that obviously when they kind of got to his inside arm, which was the arm he hurt, I think sometimes he wasn't as strong as he normally would have been. But I thought he battled out there and played his tail off." 

At times, Herremans simply lunged forward and tried to get a hold of the defender across from him. The Eagles got through that game, but it would have been difficult for Herremans to continue playing as opponents figured out the limitations caused by his injury. 
Man, it almost seems like Herremans was more effective with one arm than Bucs' offensive linemen were with two!
Herremans will turn 33 in October and has made 124 starts, at both tackle and guard positions. That's about 20 games less than Logan Mankins.
Joe's not sure how the Bucs could pass on a chance to sign a guy like this at the right price.