Jameis Watch: "The Only Choice"
January 10th, 2015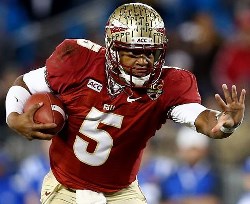 Crab-legs-stealing, BB-gun-shooting, obscenity-hollering, Heisman-Trophy-winning, former national champion Jameis Winston, the pride of Florida State University, continues to look like a much better quarterback prospect than Mike Glennon and Josh McCown.
It's Joe's daily nugget on the Jameis Watch, celebrating the best quarterback to wear No. 5 ever in the state of Florida.
A guy Joe wishes would get a job at a big time network would be Emory Hunt. You know, the Czar of the Playbook?
Hunt does a weekly video of top NFL games and he really does a lot of research and uses his information in easy-to-understand sound bytes. You won't hear Hunt talking much about "Banana-Y-Two" routes without explaining what they are.
In breaking down college prospects, Hunt said the Bucs should already have their mind made up. And that decision, Hunt said, is Florida State quarterback Jameis Winston.
IMO, the only move the #Bucs should consider at #1 IF he declares…it may become 'clearer' to both as Jan 15th nears pic.twitter.com/bBwipImMMB

— Emory Hunt (@FBallGameplan) January 7, 2015
Obviously, this was posted before just before Winston declared for the draft. But the point is clear.
Once again, for the reading impaired, Joe would be content with Marcus Mariota and would be OK with sitting him for a season so he can learn an NFL offense. Joe just thinks with the Bucs having the top pick, they should pick the top quarterback: Winston.
The stars are aligned for Jameis to come to the Bucs. Don't mess with the football gods.