"Not Factually Based"
January 12th, 2015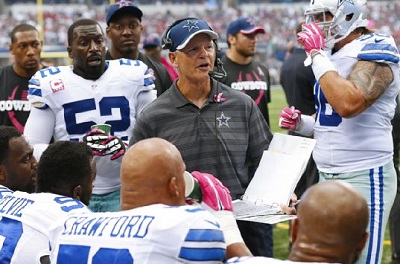 So what's the latest on Rod Marinelli coming back to Tampa?
If you missed it, there were multiple reports yesterday claiming Marinelli will be on the move to re-join his great friend Lovie Smith and assume the Tampa Bay defensive coordinator position.
Bucs beat writer Rick Stroud, speaking on WDAE-AM 620 this morning, said he talked to Lovie yesterday and the head coach said the report is "not factually based." Stroud also penned a piece on TampaBay.com that shared similar language, though the website keeps asking Joe to pay to read that story. The nerve!
NFL Network super insider Ian Rapoport pointed out yesterday that Marinelli remains under contract in Dallas for about another week, and there's no sign that the Cowboys will let him talk to the Bucs before then.
Joe has been skeptical for several days about Marinelli joining Lovie in Tampa. Sure, Marinelli may want to come in theory. But Jerry Jones isn't dumb enough to let Marinelli walk without offering him a pile of money to stay. Marinelli did a heck of a job with the Dallas defense.
Would Team Glazer match Jones' offer? Does Marinelli care about making an extra million bucks, potentially, if he stayed in Dallas? Is Marinelli eager to live in his Gulf Boulevard condo in Redington Shores?
One also has to wonder whether Marinelli could emerge as a head coaching candidate now that the Cowboys' season has ended. Joe can only imagine how a fiery competitor like Marinelli would be eager to erase the 0-16 taste from his mouth — and legacy.
Joe just doesn't think Marinelli is a slam dunk to return to Tampa. It might very well happen, but money and opportunity have a funny way of altering plans.