Jason Licht Explains Why He Would Draft A QB
January 12th, 2015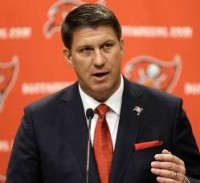 Believe it or not, a hefty percentage of Bucs fans don't want to draft a quarterback with Tampa Bay's No. 1 overall draft pick.
Whether they're members of the Mike Glennon Mob or just plain insane, Joe doesn't get it.
Thankfully, Bucs general manager Jason Licht is of sound mind.
Licht was proud to say the Bucs will not play games when it comes to drafting a QB in April.
"I will say this, if we feel that a quarterback is a franchise-level player, that can change the landscape of your team, your town, your community, your fan base, all those things, and, most importantly win, you have to take him," Licht said on the Buccaneers Radio Network recently. "So the job that we have in store for us for the next few months here is deciding if there is that player in the draft."
Hearing this soothed Joe. But it begs the question, "What the hell happened last year?"
Oh, well, that's old pain. But the scouting staff and the head coach who passed on trading up slightly for Teddy Bridgewater or Derek Carr are still in place.
Joe remains fearful the Bucs might do the unthinkable on the evening of April 30: pass on a quarterback.