Marcus Mariota "Project" Equals "Half A Season"
January 19th, 2015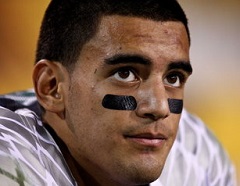 A former NFL general manager and highly respected personnel man has chimed in with an interesting take on letting a quarterback learn the NFL from the sidelines.
Phil Savage, the former Browns GM and Ravens and Eagles executive, dialed into Philadelphia sports radio over the weekend. In Philly, they are obsessed with the idea of trading up with the Buccaneers for Marcus Mariota, so the subject of the Oregon QB was on the table. Matt Lombardo, of NJ.com, took notes
Savage, who now runs the Senior Bowl, said he doesn't see Mariota as a quick fix for any team but the definition of "quick" has changed considerably.
"If he falls, it's not going to be that far. He's got excellent traits. He's got leadership in his own way. First class off the field. A lot of character. He's more of a long-term project. When I say long-term project in the NFL, a half a season," Savage said. "There is no development anymore with these quarterbacks because everyone is so desperate to get one and get one on the field as quickly as possible."
Yes, tolerating Mariota sitting for a season behind Josh McCown a bad starting quarterback would take a very strong stomach for all associated with the Buccaneers, fans especially. In the real world of the NFL, this matters. Even former Bucs rockstar general manager Mark Dominik talked about how fan opinion shapes decisions.
Smart or not, the ramifications of Mariota potentially on the Bucs' bench learning the NFL for a year is a consideration at One Buc Palace. And then there's the fear that Mariota might not make it. All first-round picks come with what NFL suits call a "bust rate."
Savage elaborated on Mariota's risk.
"The bottom line and the reality of it is," Savage explained. "A lot of the visual pictures that Mariota has been taught not to throw the ball into or has not really had to because he has had other options with more wide open receivers, that's not going to happen in the NFL. I think that's the real transition, not only for Mariota but for most of these spread quarterbacks."
The Bucs will do their research into Mariota and Jameis Winston, but as loyal readers here know, Joe believes the choice should be very clear. The Chase for Jameis will end in 100 days.