Lovie Needs Koetter To Succeed
January 20th, 2015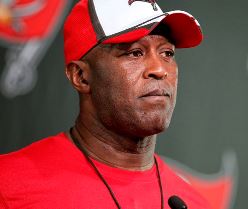 An interesting thought crossed Joe's mind upon reading an ode to Marcus Arroyo, the ill-suited former Bucs quarterback coach/acting offensive coordinator who parted ways with Tampa Bay last week.
It took the Bucs and Arroyo about as long after the season to wave goodbye to each other as it takes to thaw out a turkey.
Not that it was any surprise. The only surprise would have been if Arroyo stayed, if only to fetch bagels and coffee from the Panera near One Buc Palace.
Andrew Astleford of Fox Sports Florida wrote about Arroyo's exit, and for Joe, stumbled upon why Bucs coach Lovie Smith needs new offensive coordinator Dirk Koetter to succeed so badly.
Well, it depends what comes next. If Koetter succeeds, Arroyo's time with the Bucs will be viewed no differently than a crumpled rough draft or a chemistry experiment gone wrong. If Koetter succeeds, Arroyo's time with the Bucs will be viewed as a necessary means to a desired end, one that includes playoff berths and Super Bowl contention after a long, frustrating drought.

But if Koetter fails, if the Bucs continue to slide rather than soar up the NFC South standings, Arroyo's time with the Bucs will be viewed as a large reason why the current regime's lifespan was brief.

Here's a dose of reality: The Bucs must go 9-7 next season for them to match their mark after Greg Schiano's first two campaigns. They must go 11-5 to tie Raheem Morris' record after two years.
Joe nearly spit his Bud Light all over his computer monitor. Lovie needs an 11-win season to match Raheem Morris — Raheem Morris, people!
That's a jarring factoid that should sober up any Bucs fan trying to wash away memories of 2014 with a bottle (bottles?). That's how bad the first year of Lovie's administration was: He would have to turn in one of best seasons in Bucs history to match Raheem's first two years.
And if Koetter cannot turnaround the offense this season, it not only paints Arroyo to look like a scapegoat, but Lovie would be on thin ice after another rough year. That's just how things roll in the NFL.