Licht Not Scared Of Free Agency
January 18th, 2015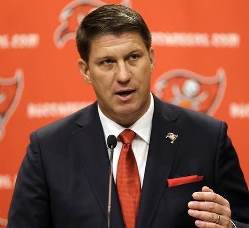 The way the Bucs spent Team Glazer cash last offseason — the way a college kid uses his dad's new AMEX gold card at a bar — and largely struck out too often, one would think general manager Jason Licht would still bare the singed eyebrows and stay clear of the fire.
Not so.
In fact, Licht speaks like a man ready to jump back in the deep end of the free agent pool when the free agency dinner bells rings on March. 10
That's the word from Rick Stroud of the Tampa Bay Times, who touched based recently with Licht.
"We can't let what happened deter us from taking some risks,'' Licht said. "If you're afraid of taking risks, you're going nowhere. Take the lessons that you learned and it helps you become wiser with your decisions.''
One would hope whoever was responsible for believing Anthony Collins is a cornerstone left tackle should be locked in a cage until training camp, so he can't offer any more advice (?) on a player's talents. Yes, Bucs overlord of football operations Lovie Smith terribly misjudged on Michael Johnson and Evan Dietrich-Smith and Josh McCown, too. And don't even get Joe started on twice-discarded cornerback Mike Jenkins.
Let's hope the Bucs get wiser player evaluation this time around with Team Glazer's checkbook. Or Team Glazer just may shut down that account.