Jameis Watch: The Only First-Round QB?
January 17th, 2015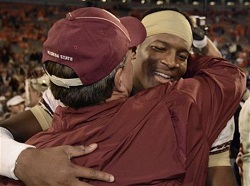 Crab-legs-stealing, BB-gun-shooting, obscenity-hollering, Heisman-Trophy-winning, former national champion Jameis Winston, the pride of Florida State University, continues to look like a much better quarterback prospect than Mike Glennon and Josh McCown.
It's Joe's daily nugget on the Jameis Watch, celebrating the best quarterback to wear No. 5 ever in the state of Florida.
After a dozen years as an NFL quarterback, and decades breaking down college football for the big networks, Gary Danielson has earned himself quite a reputation. SEC fans know him well.
So Joe found it noteworthy this week when Danielson joined WFNZ-AM in Charlotte for a chat about quarterbacks.
Danielson admits he's scared of Jameis Winston's off-field antics and how that might affect him in various ways in the NFL, but Danielson seemed much more fearful of Marcus Mariota.
In fact, Danielson is confident Mariota's name will not be called on Day 1 of the 2015 NFL Draft.
"I think it's very possible that Mariota is going to slip out of the first round," Danielson said. "I don't think there's any doubt about that. He struggled from the pocket, he's slender build. Spread quarterbacks have not done well."
He went on to recommend the Bucs draft Winston, even if it's just a calculated gamble that will sell a lot of tickets at the Den of Depression.
It's hard for Joe to agree with any of this.
The Bucs aren't going to draft Winston to sell tickets. If Team Glazer was wired that way, then Tim Tebow would have been Buccaneer already, if only as training camp and/or preseason meat.
Second, in the age of quarterbacks, it's hard to believe Mariota would fall to the second round. However, Teddy Bridgewater fell to the 32nd pick last season, largely on the silly perception he was too skinny, and because of some bad throws at a meaningless pro day.
Danielson is credible, though, and his comments are intriguing tonight.