Jeff Tedford Talks To Joe; Says Lovie Didn't Want Him To "Disrupt Continuity"
January 14th, 2015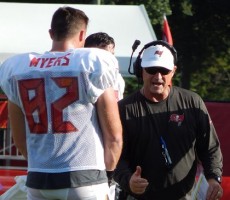 Many Bucs fans have vilified departed offensive coordinator Jeff Tedford for leaving the team and quickly landing a head coaching job in the CFL.
Joe finally caught up with Tedford today as Tedford was scouting players at the Shrine Game practices this morning in St. Petersburg, and Tedford shared a very different perspective.
Tedford painted a picture of himself yearning to do everything he could to help the Bucs and stay employed with Tampa Bay, but Lovie Smith was hesitant and encouraged him to step aside.
"I was ready to [return to coach] with about five games left. I wouldn't say that there was friction, it was a situation where I think when I let [Lovie] know I was ready to come back, Lovie felt like it would kind of disrupt continuity at the time," Tedford said. "A season is a long season, there's a lot of water under the bridge going game to game and things like that. I think he felt it best that I not come in and try to fulfill my role like that because it would have been a disruption and really kind of mess up the continuity. So that was the situation then.

"And they really couldn't commit to me about another year because, you know, I don't know if they were a little apprehensive about my health or whatever. But I wanted to stay in the first place. You know when it first happened, I got out and I wanted to, but I was in no position to coordinate at the time. I was under a lot of medication. I had some further issues that went on because of my stents in whatever they call that main descending artery. And I had blockages I was on medicine for. But then there were some other things that went along with it, and so I was on a lot of medication. And I mentioned to Lovie, 'I still got some issues here, but I'd love to stick around and do what I can do.' But I was in no position to coordinate at the time.

"[Lovie] recommended, 'Well, if you can't, you're the voice, you're the leader, you gotta do that role. If you can't do that role, then you gotta take a leave of absence.' So that's when I said, ok, I'll do that, not knowing how long things would take. It was after that there were some other complications going on healthwise."
Tedford went on to tell Joe a scary story of how he "blacked out" the morning of the third preseason game at Buffalo in his hotel room. Tedford said he ignored various heart-related symptoms because he thought the game was too important that afternoon.
The Bucs played extremely well, and Tedford said after the game he "felt terrible again", couldn't watch film, and sought medical attention the next day.
Joe will have more from Tedford this afternoon.