"One Of The More Difficult Evaluations"
January 14th, 2015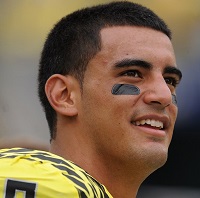 A former college quarterback and scout for the Eagles, Browns and Ravens, Joe's friend Daniel Jeremiah has transitioned very well into his role as a draft guru for NFL.com and NFL Network.
And the more Jeremiah dives into the pool of Oregon quarterback Marcus Mariota's work, the cloudier the water gets.
Speaking during a TV appearance yesterday, Jeremiah said assessing Mariota as a potential elite quarterback is more faith-based than anything else.
"One of the more difficult evaluations because so much of the success of the play is determined before the play even starts, just with their play design [at Oregon,]" Jeremiah said of Mariota. "I've never studied a guy on tape and seen guys more wide open than he has there at Oregon. So there's just not a lot of opportunity to watch him make those kind of tight-window, NFL-type throws.

"And then there's things not a lot of people talk about. He's in the shotgun. Ok, everybody says, 'Well, that's not a big deal. Everybody in the NFL is in a shotgun.' But [Oregon's] entire, almost their entire passing game is built off the run game. So you're in the shotgun, you're kind of riding a play fake and you're raising up and throwing the football. You're not taking a three-step drop and beyond, and kind of working through a traditional progression. So really what he's doing is kind of apples to oranges when you're evaluating him there versus what he's going to do at the NFL level.

"I think what you do is you bet on him as a person, in terms of how smart, how tough, his work ethic. He's a great athlete. He's got a lot of things to work with. I just think it's going to be a little bit of a project."
This is why Joe prefers the Bucs draft Jameis Winston, though Joe would have no issue if the Bucs decide to take on the Mariota project.
But what most scares Joe is the Bucs passing on both quarterbacks. Lovie Smith and Jason Licht have an awful lot of time to get squirrelly and entertain trade offers. Hopefully, Team Glazer will stand firm and demand justice is served, and the Bucs draft a quarterback.