Jameis Watch: "Very Few Cons"
January 7th, 2015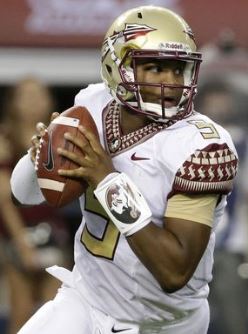 Crab-legs-stealing, BB-gun-shooting, obscenity-hollering, Heisman-Trophy-winning, former national champion James Winston, the pride of Florida State University, continues to look like a much better quarterback prospect than Mike Glennon and Josh McCown.
It's Joe's daily nugget on the Jameis Watch, celebrating the best quarterback to wear No. 5 ever in the state of Florida.
The rave reviews keep rolling in for the best pro-style quarterback prospect in the 2015 NFL draft. That would be Jameis Winston, and the Bucs control their own destiny with the first pick in the draft, i.e. the Chase for Jameis.
Even Todd McShay, football analyst for ESPN, has jumped on board lauding Winston's passing skills and football acumen, documents Pat Yasinskas.
"With Winston, there's very few cons when you talk about things between the lines,'' McShay said. "Even in game preparation, inside the facility, all those type of things, he's a very smart individual. He picks up football concepts very quickly. He knows how to go through progression reads. He's comfortable in the pocket, can manipulate the pocket, he feels pressure coming. He's not the quickest quarterback. But he's mobile enough and strong enough to extend plays with his feet. He anticipates throws as well as any quarterback in the last couple of drafts.

"There are lots of guys that can go down to a field or go to the beach and throw 100 times and hit someone in the chest 100 times. But one of the hard parts about playing that position is when pressure is coming and or when the receiver is not where he's going to be when he gets to that spot – can you make accurate throws? I consistently on tape see Jameis Winston with pressure in his face or when having to anticipate a throw and lead a receiver to a spot, make it accurately.''
Jameis is the key to a bright future. Jameis can lead the Bucs out of the darkness of the Father Dungy mentality that still stains this franchise. By his force of will, Jameis will give reason for Bucs fans to be both proud, and entertained.
The choice is as clear as a bottle of Stoli.