Rex Ryan Could Muddle Dirk Koetter Shot
January 7th, 2015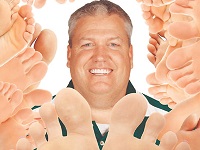 NFL Network is buzzing this afternoon with word that Rex Ryan will get a second interview for the Falcons' head coaching job.
Are their enough feet in Atlanta to entice Ryan? Regardless, this doesn't smell like good news for the Bucs.
Tampa Bay doesn't need a defensive wizard like Ryan in the NFC South. That's a dangerous matchup for a rookie quarterback. And Joe's on his knees begging the football gods for a rookie quarterback with the No. 1 overall pick.
But more important, a Ryan hire in Atlanta — very likely, given that owner Arthur Blank want sizzle and buzz from his team as they enter a brand new stadium — could mean Falcons offensive coordinator Dirk Koetter could stay put and continue calling plays for Atlanta.
Ryan's a defense-first guy through and through, and why would he want to mess with a good Atlanta offense?
Remember, Koetter got permission to interview with the Bucs and other teams for their offensive coordinator gigs, but that doesn't necessarily mean the Falcons already signed away the rights to Koetter.
Joe suspects Koetter would be elated to keep working with Matt Ryan and friends. That's a pretty sweet gig.