Jameis Watch: The Godfather Stands Firm
January 28th, 2015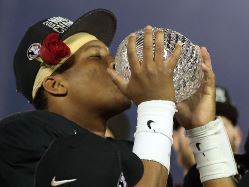 "Crab-legs-stealing, BB-gun-shooting, obscenity-hollering, Heisman-Trophy-winning, former national champion Jameis Winston, the pride of Florida State University, continues to look like a much better quarterback prospect than Mike Glennon and Josh McCown.
It's Joe's daily nugget on the Jameis Watch, celebrating the best quarterback to wear No. 5 ever in the state of Florida.
Weeks ago, Joe detailed how Jameis Winston received a high blessing from The Godfather, aka Gil Brandt, the father of modern scouting and the architect of legendary Cowboys team decades ago.
At Super Bowl Media Day yesterday, Joe learned that NFL decision-makers still hold Brandt's player evaluation in extremely high regard, higher than Joe ever imagined. At 82-years-old, Brandt still brings the goods. And he still works for NFL.com and SiriusXM NFL Radio.
Joe cornered Brandt yesterday to talk about Winston and quarterbacks, and Joe pressed Brandt for flaws of Winston and what might give him trouble.
Brandt said he could talk about a lot flaws in a lot of other guys, but Winston comes up "clean and ready" no matter how many times it's scrutinized from a personnel man's grading standpoint.
"You'll always look deeper into a tape, but I don't think he has anything negatives. Really." Brandt said. "You won't hear evaluators talk about his bad film. His negative is he can't afford to do something silly between now and the draft. A perceived character risk is different for every team."