Jake Plummer Talks To Joe
January 28th, 2015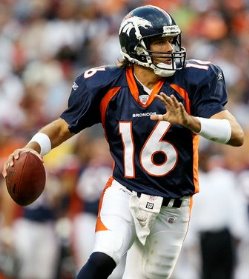 Of all the people Joe never imagined running into at the Super Bowl media center in downtown Phoenix was none other than former Bucs (?) quarterback Jake "The Snake" Plummer.
Folks may remember how Plummer, then with the Broncos, led Denver to the 2006 AFC title game, where they were blitzed by Ben Roethlisberger and the Steelers, arguably Big Ben's best game as an NFL quarterback.
Plummer's career and life went off the deep end after that. He was benched for bratty Jay Cutler the following season by Mike Shanahan and then, traded to the Bucs. Rather than moving to Tampa Bay, Plummer went into hiding. He and his former Broncos cheerleader wife high-tailed it to northern Idaho to live in seclusion.
Despite hard sales tactics by Bruce Almighty and Chucky, including visits to his Idaho home, Plummer was done with the NFL.
In recent years, Plummer has not been as much of a hermit, and Joe was shocked to see him just an hour or so ago. Plummer was kind enough to let Joe squeeze in a few quick questions in his busy schedule.
JoeBucsFan: How close were you to playing for the Bucs?

Jake Plummer: Aaaahhh… not very close at all.

Joe: Now, did Bruce Almighty and Chucky visit with you and try to woo you to Tampa Bay?

Plummer: Oh, yeah. Oh, yeah.

Joe: What was it like? What sales pitch did they try to use?

Plummer: They said they would give me a million dollars to put in my foundation. Then they fist-bumped me under the table like that would [seal the deal], like that was real unique. I was done. At some point, when you have played at a competitive level at anything, you reach a point where you are done. And I was done. And I was alright in saying that. I was retired. I sent in my papers, but I had a coach at the time [Shanahan] who didn't believe in me. And he traded my rights to Tampa. Got a sixth round draft pick — I have to find out who they got with that draft pick. I hope he was a good player. But I had retired. I was done. I love Coach Gruden, Jon Gruden. I always thought he was a great coach. I would have loved to play for him. But at that point, I wasn't in it 100 percent and you can't play this game without your whole heart.

Joe: Any regrets not trying to play for [Chucky]?

Plummer: No, not really. I think 10 years [in the NFL] is good. You know, I looked at the possibility of winning the Super Bowl or doing a few more good things and having a shot to make the Hall of Fame. But that is my ego trying to talk. I had an amazing career. What I did, phenomenal. I am very proud of what I accomplished along with my teammates and everybody that was there on the ride with me. It was an exciting thing to be a retired NFL football player. Who knows what could have happened in Tampa? It wasn't because of anything — not the team, the owners or the coaches. [Not playing] was because Jake Plummer was done playing ball.