Jameis Watch: "He Has It All"
January 5th, 2015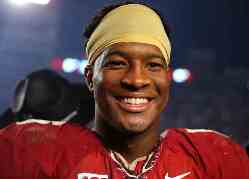 Crab-legs-stealing, BB-gun-shooting, obscenity-hollering, Heisman-Trophy-winning, former national champion James Winston, the pride of Florida State University, continues to look like a much better quarterback prospect than Mike Glennon and Josh McCown.
It's Joe's daily nugget on the Jameis Watch, celebrating the best quarterback to wear No. 5 ever in the state of Florida.
Joe still finds it amusing that some of the top folks who make a living breaking down NFL talent believe Florida State quarterback Jameis Winston is the top cat in the draft. Yet, many Bucs fans refuse to believe.
Count helmet hair Mel Kiper as a believer.
While Joe isn't a big fan of Kiper — Joe is starting to hate mock drafts like a case of the shingles — Joe does enjoy listening to Kiper break down talent on BSPN. He does his research.
In a recent "Championship Drive" podcast for the four-letter with Rece Davis, Kiper all but stated Winston is the next great NFL quarterback, the way he raved about the former national champion and Heisman Trophy-winner.
"Jameis didn't have a spectacular year in terms of a touchdown-to-interception ratio, decision-making and accuracy in some games," Kiper explained. "His consistency for four quarters was lacking. But the talent is evident. The ability to rally the troops, the 'it' factor, he has, in addition to all the obvious physical and athletic skills you need. He has it all.

"Last year I said after the season if he had been eligible for that draft, he would have gone No. 1 ahead of [Jadeveon] Clowney, hands down, lock, stock and barrel No. 1 overall player. And he was No. 1 going into this year. … [In 2014] he didn't have Devonta Freeman, he didn't have [Bryan] Stork on the offensive line, he didn't have Kelvin Benjamin and Kenny Shaw. Those were key entities to that offense that had moved on.

"He should be an outstanding quarterback in the NFL. He has all the skills to do that. If he works hard — he's a hard worker, there is no question. He has the 'it' factor. If he wants it, he will attain it. It is in his control."
Kiper went on to say there is no way he can envision — barring a knucklehead move — that Winston lasts past the No. 5 pick.
What more can Joe add?