"He Ain't Worth No Damn $10 Million"
January 5th, 2015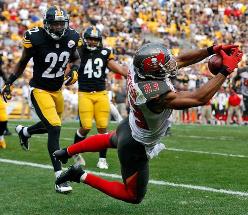 Joe's "V-Drops" nickname for Vincent Jackson comes approved by a former Buccaneer.
While former Bucs guard Ian Beckles (1990-1996) thinks Josh McCown would be "just fine" with a decent offensive line to play with, Beckles thinks Tampa Bay has an easier offseason decision with Vincent Jackson, who is due to be paid eight figures next season.
"Vincent Jackson, this year, he got his 1,000 yards, but he ain't worth no damn $10 million dropping that many balls. He dropped a lot of footballs this year," Beckles said.
Speaking on his WDAE-AM 620 show last week, Beckles offered various breakdowns of the Bucs' offense.
Beckles went on to assign "35 percent" of the blame for the Bucs' miserable offense to McCown. He said a majority of blame falls on the regime for putting Marcus Arroyo in a job he couldn't handle — and not getting him help.
As for V-Jax, Joe agrees with Beckles; Jackson is not worth $10 million. However, the Bucs are in no position to ditch good football players. If they have to overpay Jackson a few million bucks, then so be it.
Enjoy more of Beckles' take below, via the 620wdae.com audio player.