Jameis Watch: Brad Johnson Speaks
January 24th, 2015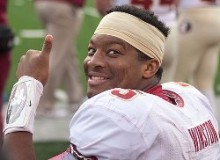 Crab-legs-stealing, BB-gun-shooting, obscenity-hollering, Heisman-Trophy-winning, former national champion Jameis Winston, the pride of Florida State University, continues to look like a much better quarterback prospect than Mike Glennon and Josh McCown.
It's Joe's daily nugget on the Jameis Watch, celebrating the best quarterback to wear No. 5 ever in the state of Florida.
One commonly expressed upside to drafting Jameis Winston is that he's "NFL Ready" because he's excelled in an NFL-style offense.
Is that just a bunch of overrated fluff?
Bucs Super Bowl winning quarterback Brad Johnson says NFL Ready "means a lot," so he told Steve Duemig on WDAE-AM 620 this week.
Johnson emphasized the decision-making required of Winston in college, versus other quarterbacks who have coaches limit and control reads and checks, is valuable for evaluation and experience.
"Extremely bright kid. Extremely football smart kid. Is able to make checks and audibles at the line of scrimmage and has a big time arm," Johnson said of Winston. "But there's a big time adjustment regardless of who you are coming in.
"The speed of the game? You'll catch up to that, but just to be able to do it weekly and consistently, that's the next step. If you go to Marcus Mariota, that's a kid that's been in the shotgun the whole time and how does he adjust? So those are things they'll evaluate, and we'll see how their careers come out."
You can enjoy all of Johnson's audio below. He dives into how impressed he is by Winston's competitiveness and leadership, and ability to balance his baseball career, but Johnson also acknowledges Winston's off-field red flags.
Johnson said he thinks those only would be a concern in the offseason, as an NFL QBs schedule is extraordinarily busy and structured.
For the sensitive types, Johnson admitted that with the Super Bowl upcoming, "I do get choked up" thinking about details of the Bucs' lone experience.