Report: Raheem Morris Returning To NFC South
January 24th, 2015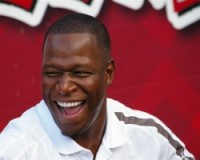 The ol' ball coach appears to have found himself a new job, a better one than serving as Redskins' defensive backs coach under a wacky coordinator.
The Washington Post claims Raheem Morris has committed to a fancy assistant defensive coordinator position under eventual new Falcons head coach Dan Quinn, who currently is the Seahawks' DC.
Quinn, who will coach in the Super Bowl as defensive coordinator of the Seattle Seahawks before fully assuming his new job, is expected to continue to call the defensive plays as head coach in Atlanta. But Morris will have a senior assistant position that will feature more responsibilities than defensive backs, according to the person, who spoke on the condition of anonymity because he wasn't authorized to speak for the parties involved.

Morris and Quinn's connection goes back to Hofstra University, where Morris played under Quinn in the late 1990s. Morris then went on to serve as Quinn's defensive backs coach from 2000 to '01 before leaving for the Tampa Bay Buccaneers the following year.
The report suggests Quinn will call the defense, but Joe wonders whether Morris will serve as a defensive right hand and meet with media during the defensive coordinator's weekly news conference. Man, those media sessions would have Joe's attention. You never know what Raheem will say.
Regardless, Joe's intrigued by Quinn's eventual arrival in Atlanta. It sure would be thoroughly unacceptable if rookie head coach Quinn found a way to win more games than Lovie Smith in 2015.