Lavonte Likes Blount, Leans Patriots
January 28th, 2015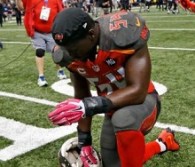 Not every Buccaneer is hiding his head in shame after a disastrous 2014 season.
One actually popped up today, as Joe mingled on famed Radio Row of the Phoenix convention center.
It was No. 54, Lavonte David, Tampa Bay's stud linebacker who doesn't get a lot of respect nationally.
David made his way over to the SiriusXM NFL Radio broadcast area for a chat with hosts Pat Kirwan and Jim Miller. David tried to play Switzerland with various politically correct answers, but he was pressed to get a little real.
So David admitted he's "leaning" toward the Patriots if he had to pick a winner. And David talked about facing both Marshawn Lynch and LeGarrette Blount, who he said has more moves than Lynch and presents some different challenges for a defender.
As for the politically correct responses, David said every Buccaneer "ended the year with their heads high."