Is Dirk Koetter In It For The Short Term?
January 9th, 2015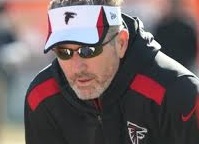 New Bucs offensive coordinator Dirk Koetter's resumé is impressive.
He's been a winning head coach at two college programs: Boise State and Arizona State, and he's had top-10 offenses with two NFL teams: Jacksonville and Atlanta.
Koetter, 55, sure sounds like a potential NFL head coach.
In fact, after the 2012 season, his first with the Falcons, Koetter interviewed for head coaching gigs with the Browns, Eagles and Chiefs.
In December 2013, Koetter went back to Boise State to interview for their top job.
So while Koetter has yet to call a play or install his playbook in Tampa, Joe must wonder aloud how Koetter views his commitment to the Buccaneers.
It's a fair question and one that is very important. When the Bucs draft a quarterback with the No. 1 overall pick (heaven help them if they don't), the best thing for that QB is to have a stable coordinator situation.
Nothing is ever etched in stone (see Jeff Tedford), but Joe would hope Koetter isn't looking for a head coaching job this time next year, like he was after his first season in Atlanta.