Jameis Watch: "Rather Impressive"
January 9th, 2015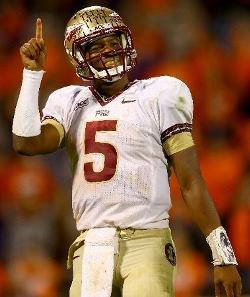 Crab-legs-stealing, BB-gun-shooting, obscenity-hollering, Heisman-Trophy-winning, former national champion James Winston, the pride of Florida State University, continues to look like a much better quarterback prospect than Mike Glennon and Josh McCown.
It's Joe's daily nugget on the Jameis Watch, celebrating the best quarterback to wear No. 5 ever in the state of Florida.
Add noted long-time NFL Films analyst Greg Cosell to the chorus of NFL insiders proclaiming Florida State quarterback Jameis Winston is the one NFL teams can bank on.
Cosell recently spent time with BSPN radio's Colin Cowturd to explain how he only studied just two of Winston's games, but came away impressed with the 21-year old signal-caller, documents "The Commish," Justin Pawlowski of Scout.com.
"I think he's the kid with the instincts of a pocket passer. He's strong in the pocket. He reads coverage. At times he's a little reckless and careless with his decision making, so you have to decide if that will carry over and what you can teach there. He's a confident thrower, so he'll throw it into windows.

"I thought what he really showed, it's so important as you transition to the NFL, is he (Winston) showed natural anticipation," Cosell said. "In two games I watched, I must have seen five or six really good anticipation throws before receivers came out of breaks. That's critical.

"In the two games I watched [on film], I thought he was rather impressive. The skill-set is clearly there. He's got potentially high level traits and attributes to play NFL quarterback."
The two games Cosell watched were against Notre Dame and Louisville, per Pawlowski, games in which Winston had subpar first halves but played lights out coming from behind in the second halves.