Dirk Koetter And The Red Zone
January 10th, 2015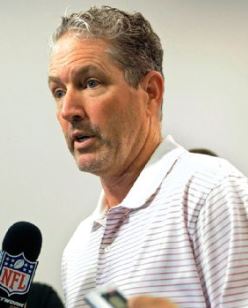 The Bucs offense was miserable last season. Joe knows that. You know that.
But believe it or not, despite being led (mostly) by turnover-prone Josh McCown and guided by ill-suited Marcus Arroyo (yes, he's still with the Bucs), the Bucs improved in their red zone offense over 2013.
No, really.
In 2013, the Bucs under then-commander Greg Schiano had a 51.43 scoring percentage in the red zone. This season, the Bucs had a 53.85 percentage, good enough to rank in the top half of NFL team at No. 14, per TeamRankings.com.
What does this have to do with new Bucs offensive coordinator Dirk Koetter?
Well, the Dixie Chicks, who he coached last season, finished fifth in the NFL in red zone scoring at 61.36 percent. This was done without Julio Jones much of the season, with an aging Roddy White missing two games, with virtually no running game, and with an injury-riddled offensive line that saw Gabe Carimi (remember him?) start seven games.
Not too shabby, huh?