Will Sean Payton Finally Get Glennon?
December 1st, 2014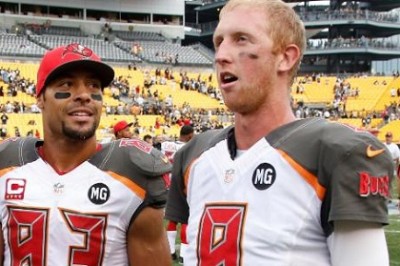 An NFL Network report has Joe thinking a Mike Glennon trade offer is likely.
The continued lunacy of starting Josh McCown makes it clear Lovie Smith has no use for Glennon. His "quarterback of the future" status has passed its expiration date.
Yesterday, NFL Network's Ian Rapoport, a man with every general manager's phone number, delivered word that the Saints will prepare to move on from Drew Brees. So that had Joe remembering how Saints coach Sean Payton raved about Glennon earlier this year, explaining his pre-draft love for No. 8 and how close he was to drafting him last year.
"I think he's got a real good arm. I think his timing, his feet are very good. His feet are exceptional, I think, for his size. So he's got good athleticism," Payton said of Glennon. "He can locate the ball and make all the throws. He was a player that we had real high grades on in the third round. Ironically, that discussion that came up, I can remember like it was yesterday. [Tackle] Terron Armstead, Glennon was right in that cloud, if you will.

Payton clarified that "cloud" means a group of players the team wanted to draft.

"I just remember the evaluation process. I had a chance to work with closely, a coordinator Dana Bible, who's retired now. But Dana [who coached Glennon at N.C. State] I remember calling me on Mike and giving good reviews, I mean over and above. So we studied more tape. And he was someone that was in the mix. I recall him specifically because we saw a lot of things we liked. And now, unfortunately, he's in our division and we're watching him."
A few days later, Glennon was 19-for-32 for 249 yards, two touchdowns and an interception in the SuperDome. The Bucs lost 37-31 in overtime.
Joe suspects that effort only added to Payton's love of Glennon.
So what's the market value on a young guy with a "cannon," a guy with 18 starts under his belt and 29 touchdowns and 15 interceptions?