Jameis Watch: "Desperate" NFL Teams
December 1st, 2014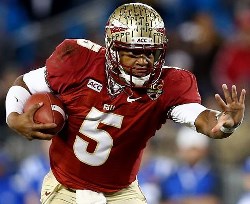 Crab-legs-stealing, BB-gun-shooting, obscenity-hollering, Heisman-Trophy-winning, national champion James Winston, the pride of Florida State University, continues to look like a much better quarterback prospect than Mike Glennon and Josh McCown.
It's Joe's daily nugget on the Jameis Watch, celebrating the best quarterback to wear No. 5 ever in the state of Florida.
December 1 has arrived, and the BSPN draft gurus have moved their clutches into third gear. Yes, the NFL Draft is less than 150 days away.
Among many topics Todd McShay and Mel Kiper addressed today was the potential No. 1 overall pick. Not surprisingly, quarterbacks were on their minds.
Oregon QB Marcus Mariota and Florida State QB Jameis Winston are the two most likely No. 1 choices. Part of that is due to the importance of the quarterback position, but it's also due to the fact that both players are top-tier talents. Mariota needs to continue to improve his accuracy and consistency as a thrower, as he has done so far this season, but he grades out well in terms of his mental makeup and intangibles and he is a dynamic athlete whose dual-threat ability puts major stress on defenses. He has a quick release, strong arm and rare straight-line speed.

Winston's off-field issues have been well documented, and NFL teams will put him under the microscope if he does enter the 2015 draft. It wouldn't be a surprise if concerns related to his off-field behavior scared some teams off. But given how desperate NFL teams are to land a franchise QB, I think it's naïve to write off the possibility that he could go No. 1 overall — at least based on what we know now. As a player, he possesses a very good release and arm strength, good pocket mobility, and he appears to be a very good on-field leader.
The Bucs need a quarterback, and Tampa Bay now sits with the No. 2 overall pick in the draft, based on tiebreakers. But there's plenty of NFL season — and college season — to play.
Of course, there will be plenty of "desperate" NFL teams, as referenced above. Will there be one more desperate than Tampa Bay? Probably.