Lovie Is Learning
December 2nd, 2014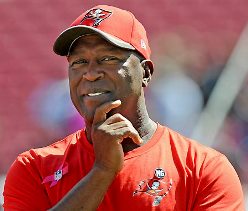 From the time Joe played for a former NFL player who counted among his mentors Tom Landry, John Madden, Gene Stallings and Lou Holtz, Joe has always believed a good football coach adapts to his talent, to the changes in the game and is open-minded.
It's great to hold firm to core beliefs, but football is cyclical. Good football coaches learn something new almost every week. The game is always changing.
Thus, Joe found it refreshing yesterday when Bucs coach Lovie Smith said he has learned the hard way this year that his main axiom of football — win the turnover battle and you will win the game — is not an absolute.
"Haven't been in this situation before, as I told the team," Lovie said yesterday addressing the terrible discipline displayed by his Bucs all season.

"Normally, I preach turnover ratio, and if you win that, you're going to win the football game. What I've found out this year is that that [too] many penalties can offset anything you do with the turnovers. Again, I knew it, but I've seen it too many times right now. And again, that shouldn't be one of the harder things that you do. If you just went into every game and say, 'Hey, we've got to keep the penalties under double digits – got a great chance to win the football game,' we'll take those. But it hasn't worked out that way."
The thing is, Lovie didn't have to consult an MIT professor to research and figure this out. He only needed to look at the Bucs he inherited.
Like Lovie, former Bucs commander Greg Schiano preached turnovers, too. And he got results. The Bucs were fourth in the NFL last season in takeaways. Yet the team was garbage with a 4-12 record. Why?
Quite simply, if you look at the most penalized teams this year and last, they all had offensive firepower to overcome mistakes. The Bucs do not. To use a Loviephrase, "it's as simple as that."
If the Bucs had any kind of offense last year and this year, they would have had many more wins, easy wins, despite all the flags and dumb mistakes. The Bucs have little to no running game and their quarterback situation is ghastly. They get a simple five-yard penalty and a whole drive is thrown out of whack.
Joe is glad Lovie is learning that no matter how many takeaways the defense gets, that if the offense can't put the ball in the end zone, it doesn't mean a damned thing.
Just ask Schiano.
To hear more from Lovie yesterday, click on the button below. Audio courtesy of Joe's friends at WDAE-AM 620.