When Will The Madness End?
December 8th, 2014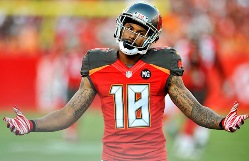 Joe has just about had it. Joe is sick of p!ssing his Sunday afternoons away watching a putrid offense that more often than not makes Joe want to stick his finger down his throat.
How the hell is it that an offense, full of veteran NFL players, can be so pathetic? How can they not know what play to run coming out of halftime?
How can they get flagged for an NFL-leading 111 penalties? How can they not snap the friggin' ball?
High school coaches would have a fit over this. How can this happen on the NFL level?
Gary Shelton wonders himself. The veteran sports columnist, host of GarySheltonSports.com, had seen enough Bucs games to scar him for life and is of the belief the Bucs offensive has been offensive since it won the Super Bowl some 11 years ago.
For crying out loud, what does this offense do well? Second-string quarterback Josh McCown, who continues to hold off third-stringer Mike Glennon, threw two interceptions and was sacked six times. The running attack got all of 26 yards for a nifty 1.9 average. The team piled up another nine penalties, which gives the team a league-leading 111 for the season.

Yeah, that'll keep opposing defensive coordinators up at night.

The sad part of this, the part that will make you weep is this: This has been going on, pretty much, since the Bucs concluded their victory in the Super Bowl all of those years ago. Since 2009, this was the 49th game in which the Bucs have scored fewer than 20. It hasn't mattered who the coach has been who has tried to make this offense coordinated, or who the quarterback has been, or who the forgettable members of all of those forgettable lines have been. There are cobwebs on the scoreboard. There is rust on the cannons.
The Bucs offense is so out of whack, nice guy though he may be, Marcus Arroyo should be tapped on the shoulder, offered parting gifts and Tampa Bay should turn the offense over to George Warhop for the final three games. At least Warhop has professional offensive coordinator experience.
If the Bucs feel bad for Arroyo, who really was forced into no-win situation, then they can offer him a free seat in the coaches' box upstairs, so long as he can prove he can count to 12.