How Far Away Are The Bucs?
December 8th, 2014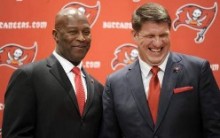 No, the headline is not a trick question but a reality that must be properly addressed (this time) by the Bucs' coaching staff and front office, and Team Glazer, at the end of the season.
And there is an answer — for the third consecutive season.
Barring an historically bizarre finish in the NFL this month, an NFC team will miss the playoffs with a 10-6 record. That happened last year (Arizona) and the year before (Chicago and Lovie Smith), as well as in 2010, when Raheem Morris and the Bucs missed the playoffs at 10-6 along with the New York Giants.
In 2009, only one NFC team made the playoffs with a 10-6 record (Arizona); all the other qualifiers were 11-5 or better.
The point here is that if a team wants to be a contender, it better be sure it has the horses to win 11 regular season games.
That's how far, far away the Bucs are.
The Lovie Smith/Jason Licht regime looked at Greg Schiano's roster and told fans the Bucs could be relevant quickly. They missed the mark terribly. Their No. 1 gamble — and mistake — was that Josh McCown could somehow lead them to respectability. He was overmatched, old and clearly the least capable starting quarterback in the division, as well as worse than Mike Glennon and Derek Anderson.
The Bucs spent an entire year building nothing and regressing at the most important position on the field.
Joe knows every last Bucs fan is saying, "Now what?"
Great question. The answer starts exactly where it should have last January: draft a quarterback.