Sean Payton And Jim Harbaugh Soon Available?
December 8th, 2014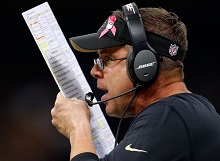 Joe knows there's a faction of Bucs fans that would love to see a new offensive minded head coach take over Tampa Bay and groom an elite rookie quarterback prospect next season.
These fans don't feel comfortable assigning that job to Lovie Smith.
It's a fair thought. Lovie's not exactly an offensive guru.
When Joe is approached with such a fantasy scenario, Joe immediately asks the question, 'So who's the head coach you want to bring in?'"
Per esteemed longtime NFL scribe Peter King, quarterback gurus Jim Harbaugh and Sean Payton could be plausible answers. Wow. Those guys have extraordinary resumés.
King explains in TheMMQB.com video below. Joe sure hopes Harbaugh doesn't land in Atlanta.