What Will History Say?
December 9th, 2014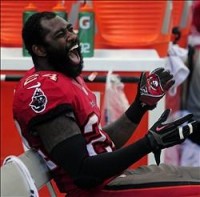 Yeah, yeah, yeah. Joe's heard the story. Tampa Bay booted future Hall of Famer Darrelle Revis so they could afford to sign Alterraun Verner, Michael Johnson and Brandon Myers.
Joe understood the threesome logic, but the reality was the Bucs let an extraordinary talent walk out of their building.
That was never soothing to Joe, who caught all kinds of beatings right here from fans who wanted no part of paying Darrelle Revis $16 million per season.
Well, Revis, 29, is now in the discussion for Defensive Player of the Year, and his team, the New England Schianos, are in prime position to win the No. 1 seed in the AFC.
The Boston Herald churned out interesting stats in their celebration of Revis shutting out Chargers young stud wide receiver Keenan Allen on Sunday night.
Quarterbacks targeting Revis this season are now 28 of 68 for 432 yards, two touchdowns and three interceptions (one tipped toDevin McCourty).

Remember, Allen had compiled 17 receptions for 225 yards and three touchdowns in his previous two games, so this was no slouch being marked by Revis. Allen had two catches for 3 total yards tonight, including a reception for no gain against a zone look.
Watching that game Sunday, Joe thought it was clear that Philip Rivers was simply afraid to throw the ball in Revis' direction.
What would the Bucs look like if Revis was on the field in place of Verner?
Joe's not sure what history will say about how the Bucs handled Revis. Give it a couple of years. But right now, what is clear is that the Bucs aren't better without him, and former rockstar general manager Mark Dominik and Greg Schiano — and Team Glazer — weren't out of their minds for wanting to invest heavily in Revis.