"This Is A Candy Store Operation"
December 2nd, 2014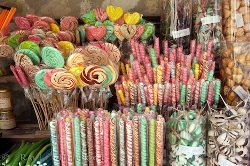 Tampa Bay fans — the few still engaged that have not gone apathetic like most — came away from the near-win against Cincinnati, a division leader, with various degrees of outrage.
First, why can't anyone on the Bucs count to 12?
Isn't there some coach's grandson who has nothing better to do than whine about when he will go to Dairy Queen the Bucs could hire to count to 12?
The Bucs, on a potential game-winning drive, had the possession blown up in their faces because on two consecutive plays, the Bucs had 12 guys line up in formation.
A high school coach would have soiled his pants for such an offense, much less a professional outfit.
Well, Tom Krasniqi, otherwise known as "TKras," thinks the Bucs are anything but a professional football team and prove that virtually on a weekly basis. Sunday was just the latest example.
Yesterday, after a few days off over the Thanksgiving weekend, TKras resumed his spot behind the WDAE-AM 620 microphone to vent. He has had his fill of all the silly Bucs mistakes and unloaded on the team yesterday.
"You can't really lay a whole lot of blame on this defense. They are playing well," TKras said.

"It is really tough to run an offense when you have such a bad offensive line and a quarterback that makes some really bad decisions. Thirteen penalties, the most penalized team in the NFL. Thirteen! And that is on the head coach, that is on the coaching staff, it is ridiculous. If it is discouraging, how about you putting a stop to it?

"This is a candy store operation is what it is. it is preposterous. When is it going to end?"
Probably not until the season comes to an end.
That's the way Joe sees it. If a team in its 12th game of the season is making stupid mistakes, just like it was in September, if not worse, then it won't stop until the season is over.
The fact most of the mayhem is happening on the impotent offensive side of the ball tells Joe there will be sweeping changes there next year, including a new offensive coordinator (which is a given) and likely a new coaching staff.
TKras also had harsh words for starting Garrett Gilkey at center, a guy who had never snapped a football in a game. You can listen to TKras, and his co-host Ronnie Lane, from 9 a.m.-noon weekdays on WDAE-AM 620. To hear TKras' Monday monologue, click the arrow below.