Lovie Explains His Defense Is "Simple"
December 2nd, 2014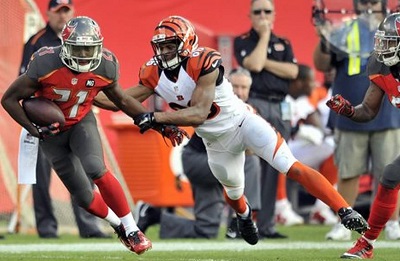 The architect of the Buccaneers defense, Lovie Smith, disagrees with the common perception that his defense is difficult to learn.Speaking last night on the Buccaneers Radio Network, Smith was clear: learning his old school Tampa-2 is not challenging.
"Contrary to what might be out there, we do have a simple defense that you can pick up," Lovie said. "But there's discipline involved in the defense and you, not just floating and drifting as a linebacker, there are specific areas that you have to be in."
Earlier on the show, Lovie offered a similar theme, discussing how defensive players building trust to just focus on their assigned gap and duty is what's challenging, not the learning itself.
Danny Lansanah is a great example, and one Lovie referenced. Lansanah has played every linebacker position this year, and played most of them quite well. Heck, Lavonte David wasn't missed the past two weeks.
Yes, the Bucs defense is jelling now, and it's not rocket science.
Remember, just a few weeks ago, a Bucs defensive icon said Lovie's Tampa-2 defense "is the simplest defense possible."