The Silliness Of The Close-Games Argument
December 18th, 2014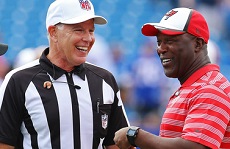 Last year, the Bucs (4-12) lost three close games to winning football teams, the Saints, Cardinals and Seahawks, by a combined eight points.
This season, Tampa Bay (2-12) has lost just one close game to a winning football team: the Cincinnati Bengals.
Lovie Smith says the Bucs have dropped a lot of close games and "true football fans can see we're on the verge."
That sounds nice, until you realize the Bucs are in the worst division in modern NFL history and the majority of all NFL games have single-digit margins of victory.
Last year's Bucs played more close games against winning teams, and they actually won four games. (Wins still count, too, you know.) Was that team on the verge, Coach?"
It really irked Joe when Lovie tried to sell that "true football fans can see" the Bucs are close to being a winning program, especially without a decent starting quarterback. Joe considers himself a "true football fan" and Joe can't see how the Bucs are close.
As of now, most Bucs fans would dance in the streets if the Bucs miraculously bounced back with an 8-8 season next year.