Josh McCown's Looming Pay Cut
December 18th, 2014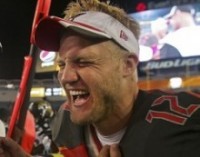 What's Josh McCown worth to the Buccaneers?
Oh, stop. Be nice.
McCown is slated to earn $5.25 million next season, per Rotoworld.com, roughly nine times the salary of Mike Glennon.
That screams, 'Take a paycut or get out.' Remember, general manager Jason Licht repeatedly has used the term "value" when he talks about acquiring and retaining players.
Former Bucs quarterback Shaun King, one of three QBs to lead the Bucs to the NFC title game, says McCown has a pay cut looming.
"I think there's some trade equity in Mike Glennon. I think you could definitely get a late-round pick for him. And I think that's what the Bucs will attempt to do," King said on WDAE-AM 620 recently. "You know, I think they'll ask Josh to take a pay reduction and he'll take it. And he'll be the backup next year. That's how I think it will pan out."
King makes sense. It seems wacky to think the Bucs would pay McCown all that money next season. No other team would.
Joe has no clue what the Bucs really have planned for Glennon, who has two more seasons left on his inexpensive rookie contract. Joe suspects the Bucs will wait and see if McCown mulls retirement when they ask him reduce his salary.